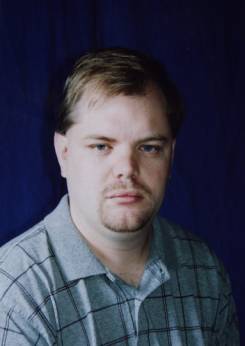 Brian Michaels
Age: 33
My Story: My Story: I started in radio while I was in High School in Little Falls, MN in 1989. My first position was basically a board operator, or as we called it a "babysitter". I became a DJ and stayed at that station until I left for college in August of 1992. I did some college radio at Moorhead State University between 92-94 then took a break for a while.
I grew up loving music, and I really loved 50's Doo Wop with groups like Dion & The Belmonts. My first exposure to a cappella came around 1983 when I heard Billy Joel singing "For The Longest Time". In 1987 I heard The Nylons version of "Kiss Him Goodbye", of course at this time I had no idea what a cappella was, then in 1991 I saw Huey Lewis & The News and they sang 4 a cappella songs, I was very impressed. Then came the red-letter date, May 3rd 1994 I was at an oldies concert to see Bobby Vee and Tommy Roe and a group called The Blenders opened the show. Needless to say, I was hooked.
Around 1997 I got the radio bug again and started working at Kool 96.7 in West Fargo, ND. I hosted the noon hour and did a weekend 70's show.
In August 1997 I was online searching for info on the Blenders and found CASA (The Contemporary A Cappella Society) and Primarily A Cappella and decided to send emails. I basically figured since I worked in radio I could score some free CDs, I didn't expect any of these other groups to be as good as The Blenders. Boy was I surprised, within 2 weeks I received 12 CDs including The House Jacks, the Alley Cats and some college stuff.
I tried to convince the program director that an all a cappella show would work, but he didn't see it, so I found another way. I started a show called "That was Then, This is Now" where I played a song from the 50's, 60's or 70's and a remake from the 90's. I made sure most of the remakes I played were a cappella versions. Before long the a cappella music was becoming popular and I went to management again and basically didn't take no for an answer. In October of 1997 The A Cappella Hour went on the air with 29 CDs.
After being cancelled in June 1998 because of a format change I started doing the show in Little Falls, MN on KLTF 960am every Saturday at 4PM, where it aired for 7 years until new owners took over and changed the stations format. Then in February 2000 I started working at The River 95.1 in Fargo, it didn't take long to convince Dan Michaels (no relation) to give my show a chance, and I broadcasted my show on The River 95.1 until they changed formats in January 2004. Dan always complimented the show and said it has some of the best ratings on the station. It took less than 2 hours to convince Star 103.9 to give my show a chance as they had heard of the show. I did my show there until they also changed formats.
My CD collection is now up to over 1500 a cappella CDs. My holiday special "Holiday Harmonies" has aired on as many as 12 stations across the country.
I love working with a cappella groups and promoting their music. If there is anything I can do to help your groups please do not hesitate to let me know.
To get to the A Cappella Hour homepage Click Here!.